Sunthorn Phu (1786 - 1855)
By Prince Prem Purachatra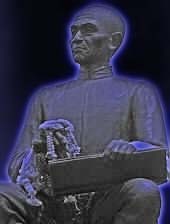 OVER two hundred years ago, on June 26, 1786, the wife of a 0 humble Rayong divine then living in Bangkok gave birth to a baby boy. In due course, the little boy was given the name of Phu. When he grew up, his genius as a poet was quickly recognized, and he won the esteem of kings and commoners alike. Finally, after many vicissitudes in the course of a colorful career, he attained the distinction of Poet Laureate and was created Phra Sunthorn Voharn. Today, 130 years after his death, Sunthorn Phu is accepted as one of the greatest poets Thailand ever produced, and he holds his place among the leading poets of the world.
Sunthorn Phu was born in the fifth year of the reign of King Rama I. His father was a native of Muang Klaeng, a township in the Province of Rayong, but his married life was spent in Bangkok. Soon after young Phu was born, his parents divorced. His father went back to Muang Klaeng and took holy orders there. His mother married again and later became the wet-nurse of a princess in the royal palace. Young Phu stayed with his mother and thus spent his early years in the palace.
Like the youths of his time, the future poet received standard education in a monastery now known as War Sri Sudaram, situated at Klong Bangkok Noi. Leaving school, he obtained the post of a clerk in the government service. But the only work that was congenial to him was the writing of verse. In this he was adept even as a mere boy. Before he came of age, he wrote a long poem based on the story of Khobutra which, however, was left unfinished. Neverthe-less, the work showed promise of a genius that was later to attain full development.
It was about this time that the youthful poet fell in love with one of the ladies of the palace whose name was Chan, a woman who had a considerable influence on his work. But in those days it was a heinous offense to love one of the palace ladies, and as a consequence of his romantic folly, both he and his mistress were put in palace prison. On their release in 1806, Suthorn Phu left the Capital, accompanied by two disciples, to pay a visit to his father whom he had not seen since he was a little boy. On his way, he wrote his first great poem Nirat Muang Klaeng, in which he described the journey and addressed many tender lines to his lady love.
Sunthorn Phu's original intention was to join his father and enter the monkhood for a term. But soon after he arrived at Muang Klaeng, he fell seriously ill with fever, and had to return to Bangkok as soon as he recovered. He was with his father for only two months, and had been away from the Capital for three. His return saw a happy ending to his love affair. He married his Chan, and a son was duly born to them.
The course of true love, however, did not run smooth. The young poet became too fond of the bottle, and this caused frequent quarrels between him and his wife. It ended with her finally leaving him for another man, but not before he had immortalised her name in many of his works.
Sunthorn Phu soon made his name as a court poet of exceptional merit. At the age of twenty-one, he accom-panied one of the young princes to the shrine of Phra Buddha Bat, and wrote a beautiful poem called Nirat Phra Bat, in which he described his experiences and referred to the differences that had arisen between him and his wife.
In 1809, King Rama I died and King Rama II succeeded to the throne. King Rama 11 was himself a poet of genius, and he saw in Sunthorn Phu a kindred spirit. Soon after his accession, therefore, His Majesty gave the young poet a position at court. Sunthorn Phu quickly proved his worth. When the King was writing his Ramakien, he often consulted the poet on different points connected with versification and always found him with a ready answer. His Maj-esty was therefore very pleased with him and created him Khun Sunthorn Voharn and kept him near his person when-ever he was writing.
Unfortunately, however, Sunthorn Phu could not leave off drinking, and this soon got him into trouble. One day, when he was drunk, he had a quarrel with his mother. One of his uncles tried to intervene, and the poet turned on him and severely injured him. This came to the ears of the King. His Majesty was strongly displeased and ordered the un-ruly young man to be put in prison.
This term of imprisonment actually proved to be a blessing in disguise, for it was while he was in prison that he conceived the idea of writing a long imaginative romance, with two princely brothers as heroes living lives of adventure in a world full of magic charms and enchantments and strange beings. This was the beginning of the famous Phra Abhai Mani, one of the greatest imaginative works ever written. It was not completed until the poet was middle-aged, but he was able to sell many cantos of it in manuscript form to a delighted reading public while he was in prison, and thus earned a handsome income for himself.
As might have been expected, he did not remain in prison long. He was far too useful to the King. One day, His Majesty had urgent need of his services and so granted him a full pardon. Once again, Sunthorn Phu became the royal favourite, the instructor of royal sons and a general literary adviser. He was one of the famous literary circle, headed by King Rama 11, that composed one of the finest works in the language, TheStoryofKhunChangandKhunPhan. He is accredited with having written the chapter about the birth of Phlai Ngarm, son of Khun Phan and the heroine Wan Thong.
It was in his capacity as literary adviser that he incurred the wrath of the King's eldest son, Prince Jesdabodin-dra, also a poet. Sunthorn Phu ventured to make public criticism of some lines written by the Prince, sometimes going to the extent of improving the lines by rewriting them extempore, a kind of work at which he was particularly adept. The
Prince took this as a personal slight, and unfortunately for the poet, never forgot it and never forgave him for it.*
In 1824, Sunthorn Phu's great patron, King Rama 11, passed away, and Sunthorn Phu's enemy, Prince Jes-dabodindra, ascended the throne as King Rama III. The poet was at once deprived of his title and position, and he had to take to the kindly shelter of the yellow robe. He remained in the monkhood for 18 years. During this period, he wrote several poems, the most notable being Nirat Suphan and Nirat War Chao Fa, all written on his various journeys to dif-ferent places.
Around 1832, Prince Lakhananukhun, a young son of King Rama III, took a liking to the wandering poet, and took him under his patronage. Sunthorn Phu then left the monkhood and lived as a retainer of this prince for whom he wrote several more cantos of Phra Abhal Mani and some other poems. But adversity dogged the poet, for in 1835, his princely patron died and he was again thrown out upon the world. During this unhappy period, he led a sorry existence, wandering from place to place in a boat which was his only home and selling his poems wherever he could.
A great poet like Sunthorn Phu could not remain long in obscurity, however. Not very long afterwards, Prince Isaresrangsan, another son of King Rama II, received him into his service. This prince was the favourite younger brother of Prince Mongkut, and when the latter became King Rama IV, he was raised to the rank of His Majesty Phra Pin Klao and invested with regal powers. The prince thereupon bestowed on his Poet Laureate the dignity of Phra Sunthorn Voharn, a position which the latter retained to the end of his days. During this last period, when he was under the patronage of His Majesty Phra Pin Klao,he wrote Nirat Phra Prathom and many other poems including lullabies for the royal children. He lived and wrote to a ripe old age. He died, a man of rank, position and fame, at the age of seventy, in 1855.
The greatness of Sunthorn Phu lies not so much in correct and ornate style, which is the aim of most Thai poets, as in the very simplicity and sincerity of his expression. Unlike so many other poets, he wrote from his heart and not from his head. Not being a learned man, he confined himself to simple forms of verse and simple language. But in his own field, in what we call Gion poetry, he was past master and his works are unsurpassed and probably can never be surpassed, although no other Thai poet has had so many imitators. But Sunthorn Phu reigns supreme, because in all his poetry, in Phra Abhai Mani, in his Nirats with their mixture of romance, pathos and humour, he touched the heartstrings of the common people. That is why he is so deservedly called the People's Poet.
---
* Prince Prem Purachatra owed this view on the conflict between Sunthorn Phu and future King Rma III to Prince Damrong Rajanubhab. Modern critics, however, believe it to be something of a hearsay.
---
[Sunthorn Phu Page]