Procession routes after the Royal Cremation
---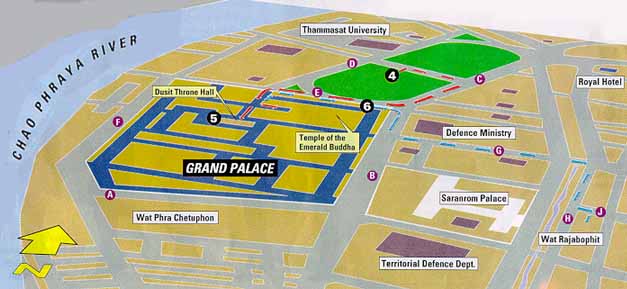 As required by tradition, the Royal Relics will be collected on the morning following the cremation, March 11, at 8 a.m. They will be placed in the Royal Cinerary Urn and the Royal Ashes Container and taken to the Grand Palace by the Fourth Procession (No.4 on map).
The Fifth Procession on Wednesday, March 13, (No.5) will transfer the Royal Relies in the Phra Thinang Rajendhrayan from the Dusit Maha Prasat Throne Hall to the Chakri Maha Prasat Throne Hall.
The final procession on March 14 (No.6) will convey the Royal Ashes Container by royal limousine from Phra Sri Ratana Chedi at the Temple of the Emerald Buddha to be placed at Wat Ratchabophit.
---
In memory of our beloved Princess Mother

Materials from Bangkok Post